World's Largest Ball of Twine
Cawker City Kansas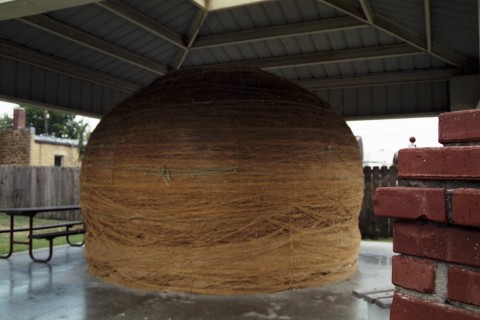 Featured on the World's Largest Things T-Shirt!
As you may have already read in the Minnesota Twine Ball page, the right to call your creation the World's Largest is highly disputed. I personally strongly believe in two, am withholding opinion one one 'till I see it myself, and am a strong non-believer in the fourth. This one is the Largest Built by a Community, one of the few World's Largest Things that Keeps Growing.

The World's Largest Ball of Twine celebrated its 50th Birthday with a big shindig in Cawker City Kansas. The whole town rallied around the ball at the annual Twine-A-Thon held August 15, 16, 17 2003. To augment the occasion, the town decided to enlarge their festivities, including a birthday party and an exstensive downtown revitalization.
Ball of Twine Stats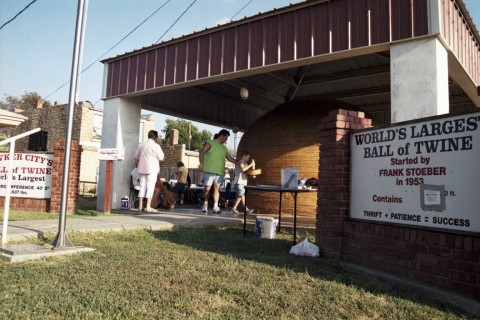 Current Ball of Twine Stats: 17,554 pounds, 40 foot circumference
Over 7,009,942 feet of sisal twine - that's 1,325 Miles or 2,137 KM

While there are other World's Largest Balls of Twine, each and every one is unique - currently, there are four -
World's Largest Ball of (Sisal) Twine Made by One Man, Darwin MN
World's Largest Ball of (Sisal) Twine Made by a Community, Cawker City KS
World's Largest Ball of (Plastic) Twine, Branson MO
World's Largest (Potato shaped) Ball of (Sisal) Twine Made By One Man, WI
Tips? Photos? Please share:
World's Largest Things
PO Box 101

info@WorldsLargestThings.com
| Home | | Store | | World's Largest List | | What's New |
copyright and trademark ERNCO Value Added Products and World's Largest Things