Gloriously Glossy Magazine Features
Full color coverage of World's Largest Things
From mass market mags to underground alternative 'zines,
everyone has been reading about World's Largest!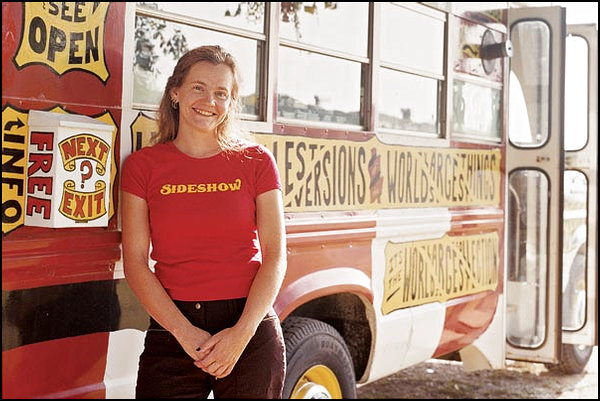 2007
St. Louis Magazine "Postcards from the Veg" expose, July 2007.

"Creative Catalyst: Celebrating 100 Years of the Garden of Eden:
Erika Nelson reflects on the impact of Samuel Perry Dinsmoor's
visionary environment on the community in which it was created."
(I wrote this one!) Raw Vision, #58, March 2007, pp. 28 - 35.
2006
National Endowment for the Arts FY '05 Annual Report
features Travel Plate, published 2006. (119k pdf)

"There Are Times When You Feel Like You're Not in Kansas Anymore"
Arthur Frommer's Budget Travel, Vol. 9 No. 5, June 2006, pp. 59 - 65.

"What's in the Mail?" Postcard Collector Magazine, Vol. 24 No. 6, June 2006, p. 22.

"Looking at Kansas with New Eyes through 'Explorer Tourism'"
National Trust for Historic Preservation's Forum Journal, Vol. 20 No. 4, Summer 2006, p. 43 - 49.

Two page spread in 3rd Floor, an alternative Art magazine from Brooklyn NY, Issue #4(2611k pdf)

2005 Articles
"7th Annual World's Largest Catsup Bottle Bash"
American Road Magazine, Vol. 3 No. 3, Autumn 2005, p. 8. (1139k pdf)

"Toast bis Tuten - Internet: Web-Museum fur skurrile Sammlungen"
Art: das kunstmagazin,Hamburg Germany, Nr.6/Juni 2005: p. 127. (893k pdf)

"Artist brings two generations together through quilting"
Better Years Monthly, Vol. 30 No. 6, June 2005: p.3.

Personal Space "Travelin' show"
Spark Magazine Wilmington DE, 27 April 2005, p. 11.

<-- go back to Meet the Press page
World's Largest Things
PO Box 101
Lucas, KS 67648-0101
785-760-0826

erika@WorldsLargestThings.com
copyright and trademark 2007 Worlds Largest Things Incorporated