NEW New Museum! It's a Gerstenslager!
Made in Wooster Ohio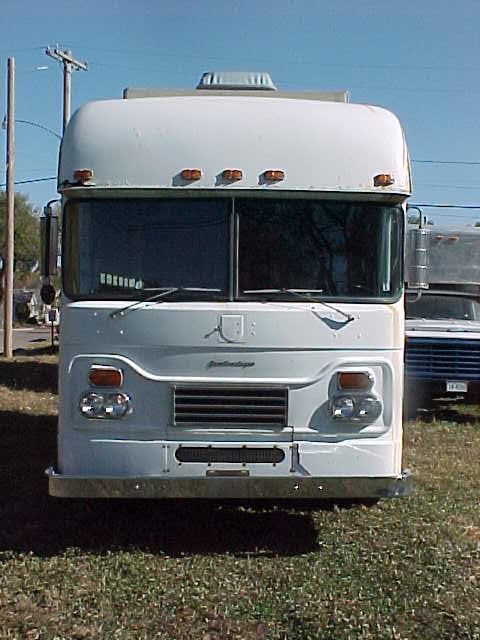 OK - I mean it this time - Originally, the new museum was to be a Gerstenslager from Cleveland Ohio, but due to unscrupulous sellers and shady dealings (story soon on the original Gerstenslager page), a new Gerstenslager has been sought, bought, and brought.

Built in Wooster Ohio (which is between Berlin OH, former home of the World's Largest Wheel of cheese, and Wilmot Ohio, home of the World's Largest Cuckoo Clock) by Gerstenslager, the bookmobile was designed by none other than the builders of the second Weinermobile (which, by the way, added the verrry important design element - the bun).

SO, after a trying trek on Amtrak, the New Improved Non-Ninny Mobile Unit was transfered from the most recent owners, the Wheaton Community Radio Amateurs Ham Radio club.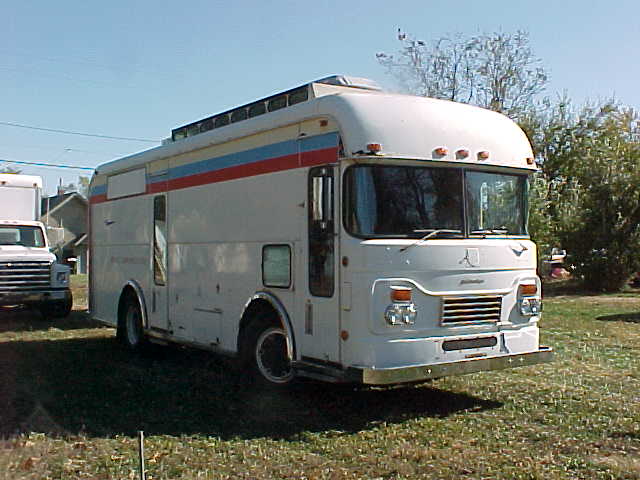 I found a little about the vehicle online:

Gerstenslager - Beverage truck early 1950s White COE had large doors and large compartments made for pallets, not cases.

Gerstenslager built a large traveling chapel/bus for the Our Lady of Lourdes Catholic Church in Raleigh, North Carolina sometime in the late 1950s. The vehicle featured arched windows and a wide side door entrance that converted into a pulpit, allowing services to held inside the vehicle or out, depending on the weather. (pic pp107 - American Buses -Woods)

Gerstenslager Company of Wooster, Ohio 1910s-present - maker of bookmobiles and a few weinermobiles as well. Originally a carriage and wagon maker. The years from 1950 to 1954 brought five new versions of the Wienermobile, one of which is currently on display in Dearborn, Michigan, at the Henry Ford Museum and Greenfield Village's popular Wienermobile Cafe. These vehicles, designed by Gerstenslager of Wooster, Ohio, were built upon a Dodge chassis and featured innovations such as a high-fidelity sound system and a sunroof. Even more important, perhaps, was the addition of a bun.

So, in the new museum, there will be a little shrine to the Weinermobile, featuring my own little Weiner whistle, a packet of Kool-Aid, a piece of twine, a dollap of Catsup, and a dog-eared copy of Roadside America to pay homage to another World's Largest Things sub-theme.

The Gerstenslager Story:
Gerstenslager began operations in Marshallville, Ohio in 1860. At that time it was a carriage factory known as the Wehe Company. In 1882, Mr. George Gerstenslager, a young blacksmith, went to work for the company. In the early 1890s Mr. Gerstenslager became the owner of the company along with Mr. Weimer. At that time, the company was known as The Weimer and Gerstenslager Company.

In 1904, George Gerstenslager assumed the major responsibilities of management and ownership of the company and it soon became known as The Gerstenslager Company.

The company continued to produce buggies, surreys and wagons at the factory in Marshallville, Ohio. It soon became apparent that they needed larger facilities and a more advantageous shipping location; and in 1907 the company moved to a new plant in Wooster, Ohio.

The building that Gerstenslager built in 1907 is still standing. During the early 1920s, Gerstenslager changed their production facilities from buggies, surreys and wagons to van bodies and special truck bodies.

Gerstenslager management realized the building at Spink and Liberty Street was not conducive for this type of manufacturing, and in 1930 the company relocated to East Bowman Street in Wooster, Ohio where the company still resides today.

Following the war, Gerstenslager devoted many hours to designing and building custom-built mobile units for libraries, fire rescue departments, dental units, canteens, mobile x-ray units, hospitals and television units used by all the major networks. In the early 1950s the company was awarded contracts to build vehicles for the United States Postal Service.

In the 1960s Gerstenslager decided to expand their resources and energies into creating a stamping and fabrication division to utilize their equipment to its full capacity. At this time, the company began making parts for the automotive, truck and agriculture industries.

During the 1980s in an effort to combat the corrosion problems in the industry, Gerstenslager was one of the first companies to install a cathodic prime painting system.

In the 1990s Gerstenslager expanded their operations and added manufacturing, warehousing and die storage facilities. The company was acquired by Worthington Industries, a leading diversified metal processing company headquartered in Columbus, Ohio, in 1997.

In 2000, construction began on an 180,000 sq. ft. manufacturing facility in Clyde, Ohio. This state-of-the-art stamping facility is now operational and will allow Gerstenslager to both grow existing business and expand into new areas of the past model and metal stamping industries

World's Largest Things
PO Box 101
Lucas, KS 67648

info@worldslargestthings.com
| Home | | Store | | What's New | | What's Large Where | | Become a Member |
copyright and trademark ERNCO Value Added Products and World's Largest Things