World's Largest Woven Basket
Dresden Ohio
Arriving in Dresden, you get the distinct feeling that you don't want to be there at the height of tourist season if you're not 'into' the whole Longaberger Basket culture. The town is geared towards those who collect, decorate, carry, sell, live and breathe Baskets. Luckily, it wasn't tourist season. But, there were still basket people everywhere.

The World's Largest Basket is an amazing piece of work, and is truely a basket. Woven just like one of the normal-size baskets, it's the real deal. When asked, a basket shop proprieter said it's re-woven periodically, as the slats really are wood. It's set in a picturesque park, symmetrically framed for photo opps.

While I was partaking in the photographic delight of capturing another World's Largest Thing, a woman in a bathrobe walked by. It was before 11AM, but not warm, and we weren't in a residential area. I looked at my traveling companion, who had noticed the same thing, and we came to the same conclusion - there must be a spa nearby.

Then, we saw another one. And another. And another and another and another. We were surrounded by middle-aged basket collectors in their jammies. Once we realized that it wasn't just a few here and there, we started to investigate. Passing one Jammie Lady standing outside to enjoy a cigarette (which could be considered a fire hazard, what with all the wicker and all...), I just had to ask: "We didn't get the pajama memo - what's going on?" "Oh - you get ten percent off today if you're wearing your pajamas!!"

And, sure enough, it was a big pajama party in downtown basketvillle. Signs posted in the windows welcomed robed shoppers with the lure of Genuine Longaberger Giveaways for Bedheadded Fanatics, if you purchase before 11:30 a.m. And that was just the tip of the culture that IS Longaberger. We hadn't even made it to the World's Largest Apple Basket (tm) in Frazeyburg, or the World's Largest Building Shaped like a Basket (tm) in Newark yet...

But, back to the basket... It is a beautiful thing, with a door built in the back. Which leads to the question "What, exacty, is inside the World's Largest Basket?"

Leaving town, I spotted the sure-fire 'You're in a Tourist Trap' sign - you'll find one in every 'Authentic' or 'Rustic' or 'Antique' town that patterns itself along a theme. Somewhere along the line in every center of kitsch, every Faux-quaint town on the tourist map, you'll find a place devoted solely to....

...Fudge.


World's Largest Woven Basket Stats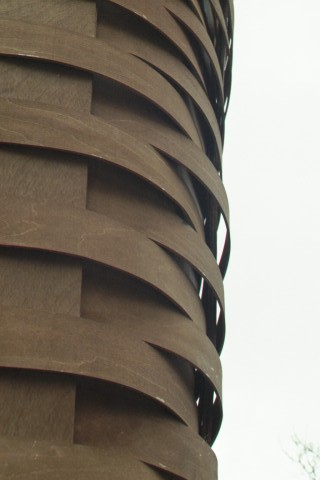 from the plaque:

World's Largest Basket

The World's Largest Basket is 48 feet long, 11 feet wide, 23 feet high.
This basket was made from 10 hardwood maple trees and required 2,000 employee hours of work to complete.
This is a giant sized model of the popular Longaberger Market Basket with two swinging handles.

I'll post more as I get information.
Tips? Photos? Please share:
World's Largest Things
PO Box 101
Lucas, KS 67648

info@worldslargestthings.com
| Home | | Store | | Eastern Tour | | What's Large Where | | What's New | | Become a Member |
Copyright and Trademark 2005 World's Largest Things