World's Largest Totem Pole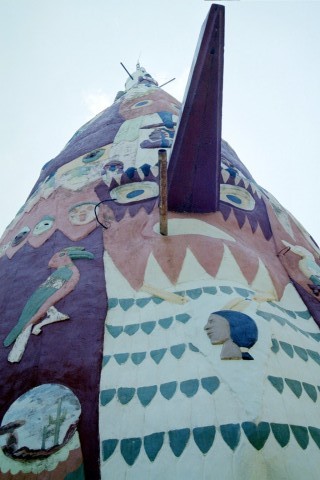 Saturday, June 14, 2003
Along historic Route 66 sits a great example of the connection of worlds – World's Largest Things and Grassroots Art Environments. Ed Galloway's World's Largest Totem Pole is a massive concrete structure, built by a retired man as a tribute to Native Americans. Like most Grassroots artists, it's an encompassing environment, impossible to move, and completely amazing.

I got there mid-afternoon, following signs announcing a BBQ at the Totem Pole Park. The historical society was doing a fundraiser before the weather got too muggy and thick, with BBQ chicken, pop and chips. There was a little music get-together, too, with appropriate fiddle playing and a couple of 'whoops' and 'haws' floating through the air.

I hadn't gotten to go inside the last time I'd passed through, so was glad to see the door to the totem pole open. Nice series of smaller and smaller square access holes, with progressively smaller rooms telescoping up. Couldn't actually go up inside, but you could look. Since it had recently been restored with help from the Kansas Grassroots Art Association and local volunteers, the paint was fresh looking and the concrete was in good shape. The fiddle house was open, too, complete with gift shop.

For a quarter, you can buy a two-page information sheet on Mr. Galloway, complete with statistics, chronology, and background information. The best line is in the first paragraph, and seems to be a good one-line introduction to the era and Okie culture that the Totem Pole sprouted from: "His (Ed Galloway) wife, Villie Hooten was from the Bushyhead area."

OK, so most people would pick a different quote, probably one like: "All my life I did the best I knew. I built these things by the side of the road to be a friend to you."

You can read the whole thing here… but you have to send me a quarter.

They had a good array of souveniers, not all as outrageously priced as the background information sheet, so I did walk away with a mug and some postcards. By the way – all you attraction owners out there – it's important to stock small T-Shirts – the era of teens and pre-teens buying XXL shirts has been over for a long time now, and many people out there are wanting either fitting or super-small sizes. Just a thought.
There's also a World's Largest Totem Pole in Kalama, Washington - I visited on the latest Washington Tour.

---
World's Largest Totem Pole Stats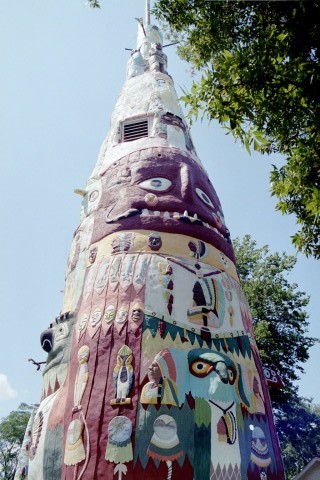 I've posted the fact sheet here: Totem Pole Fact Sheet ,
Tips? Photos? Please share:
World's Largest Things
PO Box 101
Lucas, KS 67648

info@WorldsLargestThings.com
| Home | | Store | | Oklahoma Tour | | World's Largest List | | What's New |
copyright and trademark ERNCO Value Added Products and World's Largest Things