World's Largest Bottle of Catsup
Collinsville Illinois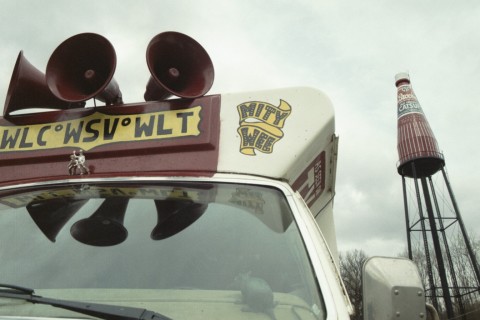 Another great story of a community who just wouldn't let their icon die...

The Brooks Tomato Products Co. of Collinsville had to build a tower to serve their factory. As Gerhart Suppinger Jr. recalled, "Since we were going to have to build the tank, we thought we might as well have it look like something" So, up went a 70' 1" Catsup Bottle.

Perusing the massive volume of Catsup clippings from Collinsville and surrounding newspapers reveals a long history of Catsup appreciation. Also well illustrated is the fight to save the Catsup bottle...

According to an article by Judy DeMosi of the Catsup Bottle Preservation Group, "When 1962 rolled around, catsup was no longer produced at the Collinsville factoory and the company had changed hands several times.... February 1994 saw the acquisition of the nearly empty factory and decaying landmark bottle by two brothers; Larry and Jim Eckert of Bethel Eckert Enterprises.

The bottle restoration effort had begun in September 1993 and the newly formed Catsup Bottle Preservation Group welcomed the cooperative relationship with local ownership of the town's landmark... Few people knew who had built the now empty water tower, and many had forgotten its connection with their own past.

But deep roots of the community embraced the bottle saving efforts and the history and stories were rediscovered and its correct place of high standing in the town resumed. A catsup bottle song and wonderful verse about the bottle has been shared throughout the community and volumes of publicity were generated both locally and from across the country."

A 1954 Collinsville Herald photo shows workmen of the Pittsburg Tank Co., Pittsburg KS (home of Big Brutus), working from Jacob's ladders to paint the catsup bottle water tower.

In 1992, the writers from Roadside America visited the Catsup bottle while driving the Weinermobile.

There were also little 12' neon-adorned Catsup bottles all around St. Louis, produced by the same people. On a related note, the same people also produced the Vess Bottle that still stands over the to-be-developed Bottle District.


World's Largest Catsup Bottle Stats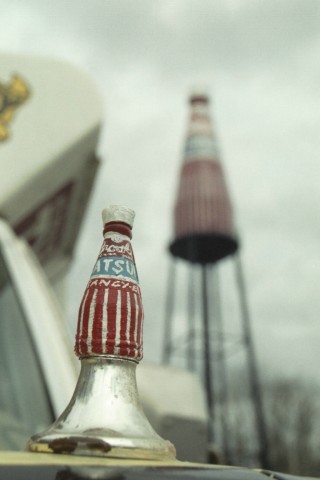 Completed October 1949, W.E. Caldwell Tank Company (also produced the 120' tall
Louisville Baseball Bat), Louisville Kentucky
1000,000 gallons or 25,600,000 servings of catsup
22' in diameter at the bottom, 8' at the top
Original price for a bottle of Catsup? $23,926.40.
Today's restoration price? about $77,440.00


I'll post more as I get information.
Tips? Photos? Please share:
World's Largest Things
PO Box 101
Lucas, KS 67648

info@worldslargestthings.com
| Home | | Store | | Eastern Tour | | What's Large Where | | What's New | | Become a Member |
Copyright and Trademark 2005 World's Largest Things