World's Largest Things Eastern Tour Route
March 1-17, 2005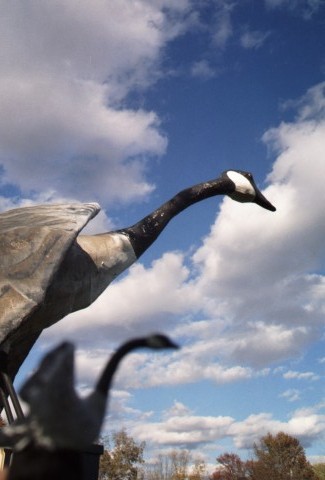 Tuesday March 1
Salina Kansas

Traveling Roadside Attraction and Museum at Claire Generator, 3:30 - 5:30 pm

Lawrence Kansas

Bourgois Pig Coffeeshop


Wednesday March 2
Kansas City Missouri

World's Largest Shuttlecocks
at the Nelson/Atkins Museum of Art

Unofficially, I was planning on stopping by the Nelson/Atkins museum around 10 am, taking photos and gathering documentation, then park in the Westport area to enjoy a cup of coffee over the lunch hour, then visit the KCPT Studios in the afternoon to show off the World's Smallest Version of their World's Largest Ball of Video Tape.

World's Largest Ball of Video Tape

Traveling Roadside Attraction at Frank and Bob's, 4011 Pennsylvania 1:30 - 3:30 pm

World's Largest Goose, Sumner

World's Largest Pecan, Brunswick


Thursday March 3
California Missouri

Woodplace Library, beautiful downtown California
slide presentations at 3:30 and 6:00 pm, free!
Traveling Roadside Attraction at City Hall 1:00 - 7:00 pm.

World's Largest 8 Ball, Tipton


Friday March 4
California Missouri

Traveling Roadside Attraction at Ford Garage, 8-11 am


Saturday March 5
St. Louis Missouri

The City Museum
Museum available at the entrance to the City Museum, all day long!
Lectures at the Museum of Mirth, Mystery, and Mayhem inside the Museum!
1:30 PM Slide Show Extravaganza! of What's Large Where...
10 PM Slide Show Extravaganza part Two! Outsider Art and What's Large Where


Sunday March 6
St. Louis Missouri

Traveling Roadside Attraction roaming
seeking out the World's Largest Vess Bottle and Other Amazing Things.

World's Tallest Man, Robert Wadlow, Akron Illinois


Monday March 7
St. Louis Missouri

Live! Morning Show! Fox! On-site at the Bowling Hall of Fame Museum!
All morning, starting at 7 am! Tune in! Stop by!

World's Largest Bowling Pins


Tuesday March 8
St. Louis Missouri

Live on Tape! Show Me St. Louis! Airing at 3pm! On-site at the Bowling Hall of Fame!

Venice Cafe
Videos and Visiting!
The Venice Cafe opens at 4, I'll be there all afternoon/evening!

Mobile Museum and the Drive to Embellish - Eccentric art videos evening event.

Live! on KMOX Radio! Listen up at 10 pm for World's Largest Things!
For non-St. Louis listeners, their website is HERE!

It was on The Carney Show with John Carney - broadcast over 7 states - FIND IT!

Wednesday March 9
Illinois

Live! On Ch. 5 Morning News from the Vess bottle, beautiful downtown St. Louis!

World's Largest Bottle of Catsup, Collinsville Illinois
Downtown Collinsville, Morning and Afternoon!

The bus was at Smock Paper Scissors, 109 East Main Street.

10 am - 3 pm - with excursions to the bottle for ooohing and aaahing!
Stop by Downtown Collinsville Inc. for souvenirs of the Big Bottle!



Thursday March 10
Illinois

World's Largest Cross, Effingham


Friday March 11
Ohio

World's Largest Loaf of Bread, Urbana
Granted a tour of a very private museum - Thanks so much!

Airport McDonalds Since I Couldn't Fit in the Parking Garage, Columbus

Stuck on the Interstate for 2.5 Hours, around Zanesville

Saturday March 12
Ohio

World's Largest Basket- Dresden

World's Largest Basket - Frazeyburg

World's Largest Basket - Newark

World's Largest Washboard, Logan


Sunday March 13
Ohio

World's Largest Vase, Zanesville
Once again, no photos will be available - Access vehemently denied
Remember, Art is supposed to be for the people, but some museums don't play nice.

Former home of the World's Largest Cheese, Berlin

World's Largest Cuckoo Clock, Wilmot

Hilton, Akron
Great service - Thank you!


Monday March 14
Ohio

World's Largest Rubber Stamp, Cleveland

New WLCo/WSVo/WLT Museum visit!! Exciting prospects for the new year!

Zepplin House, Rootstown

World's Largest Teapot - Chester WV


Tuesday March 15
Pennsylvania

World's Largest Coffeepot, Bedford

Mr. Ed's Elephant Museum, Orrtanna



Super Special Secret World's Largest Kettle, Thomasville

Super Special Bonus Secret World's Largest Donut!


Wednesday March 16
Pennsylvania

World's Laragst Shoe, Hallam

Roadside America, Shartlesville

World's Largest Amish Couple, Roadside America (see above link...)

World's Largest Pie Lady, Frackville

$50 Worth of Aimless Driving in Large Circles

Thursday March 17
Delaware

Final Destination - Delaware Center for Contemporary Art, Wilmington


Are you on the return route? Schedule a stop!
Call for a visit from my new temporary home base, or if you'd like more informaiton:
Mobile Museum: 785-760-0826

or, Email:
info@worldslargesttings.com
| Home | | Store | | What's New | | Press | | Schedule a Visit | | Become a Member |
Copyright and Trademark 2005 Worlds Largest Things